Tosei High School (桐青 高校, Tosei koukou?) is one of the schools included in the Big Windup! storyline.
Background
Edit
Tosei High Schools or simply Tosei, is a Christian high school located in Saitama Prefecture. Its system integrates the middle school and high school level educations, thus, most students are close to each other since their middle school.
The students wear blazers, long-sleeved white polo shirts and pants (for boys) or skirts (for girls). The necktie is in yellow color with blue stripes at the lower part of the necktie. For summer, the students remove their blazers and long-sleeved shirts in favor for short-sleeved shirts. Other elements of their uniform are remained.
Baseball team
Edit
Background
Edit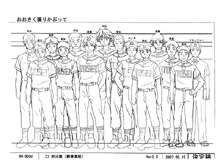 The team is the previous year's champions of the Saitama Summer Tournament and went to the National Koshien Tournament. Only third year members can have the single-digit numbers. Thus Takase, who is a regular, has the double digit uniform because he is a second year (during the Nishiura-Tosei game). The reserve players who are not included in the starting lineup are either acting as base coach (i.e. Kurata) or giving instructions of their coach using signs (i.e Riou).
The team uniform is in blue and white combination. The name print (TOSEI) is in blue color and located at the center of their uniform while the rest is in white color. On the other hand, the team cap has blue and yellow combination - the logo in yellow while the rest are in blue. Their logo in the cap consists of the letters 'T' for To and 'S' for Sei, both are written in cursive-like form and joined, making it look like the letter 'D'.
Team Members
Edit
Tournament Results
Edit
Being the champions in the previous Summer Tournament, everyone expects Tosei to have an easy victory against the newly-formed baseball team Nishiura. Most of the team have underestimated Nishiura, costing them to lose their first game.
Saitama Summer Tournament
Round
Opponent
Outcome
Results
[[{{{opponent school#1}}}]]
2
Nishiura High School
Lose
4 - 5
[[{{{opponent school#3}}}]]
[[{{{opponent school#4}}}]]
[[{{{opponent school#5}}}]]
[[{{{opponent school#6}}}]]
[[{{{opponent school#7}}}]]
[[{{{opponent school#8}}}]]
[[{{{opponent school#9}}}]]
[[{{{opponent school#10}}}]]
[[{{{opponent school#11}}}]]
[[{{{opponent school#12}}}]]
[[{{{opponent school#13}}}]]
[[{{{opponent school#14}}}]]
[[{{{opponent school#15}}}]]
[[{{{opponent school#16}}}]]
[[{{{opponent school#17}}}]]
[[{{{opponent school#18}}}]]
[[{{{opponent school#19}}}]]
[[{{{opponent school#20}}}]]
[[{{{opponent school#21}}}]]
[[{{{opponent school#22}}}]]
[[{{{opponent school#23}}}]]
[[{{{opponent school#24}}}]]
[[{{{opponent school#25}}}]]