Sakitama High School (崎玉高校 Sakitama Koukou?) is one of the schools featured in the Big Windup! storyline.
Background
Edit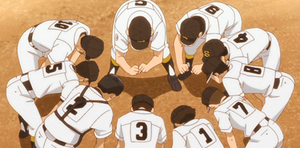 Sakitama High School is a prefectural agricultural school located in Saitama. It is 40 minutes away from Nishiura by bike.
Their summer uniform consists of short-sleeved polo shirt and black pants.
Baseball team
Edit
Background
Edit
The team consists of only 11 members, mostly second years with their best player being a first year and a third-year captain. They did not have enough members to play in the Spring Tournament and lost in the Summer Tournament's 3rd round. Due to the amount of players quitting the baseball team, the team captain is laid back and doesn't push the team very much. Their coach does not know many about baseball and usually cannot be found during matches. They manage to gain momentum through Sakura's skills (who can hit homeruns which lead them to win).
Their uniform is in simple white and black color combination. The logo in their uniform consists of the kanji of their school Sakitama (崎玉). On the other hand, their hat is in a black and yellow color combination with the logo consisting of the letter S.
Team members
Edit
Tournament Results
Edit
Saitama Summer Tournament
Round
Opponent
Outcome
Results
1
Wakou Minami
Win
9 - 8
2
Iwatsuki-Nishi High
Win
8 - 7
3
Nishiura High School
Lose
0 - 8
[[{{{opponent school#4}}}]]
[[{{{opponent school#5}}}]]
[[{{{opponent school#6}}}]]
[[{{{opponent school#7}}}]]
[[{{{opponent school#8}}}]]
[[{{{opponent school#9}}}]]
[[{{{opponent school#10}}}]]
[[{{{opponent school#11}}}]]
[[{{{opponent school#12}}}]]
[[{{{opponent school#13}}}]]
[[{{{opponent school#14}}}]]
[[{{{opponent school#15}}}]]
[[{{{opponent school#16}}}]]
[[{{{opponent school#17}}}]]
[[{{{opponent school#18}}}]]
[[{{{opponent school#19}}}]]
[[{{{opponent school#20}}}]]
[[{{{opponent school#21}}}]]
[[{{{opponent school#22}}}]]
[[{{{opponent school#23}}}]]
[[{{{opponent school#24}}}]]
[[{{{opponent school#25}}}]]