Bijōdaisayama High School (美丞大狭山高校 Bijoudaisayama Koukou) is one of the schools featured in the Big Windup! series, introduced in the Saitama Summer Tournament.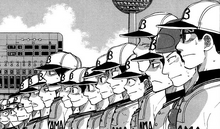 Background
Edit
Baseball team
Edit
Background
Edit
Their uniform has a B on the cap and "Sayama" written on front. So it might be spelled Bijoudai Sayama.
Team members
Edit

The team contains of many pitchers because it does not have an awesome pitcher like in Musashino First High School. Tomoya Taki is the head coach who is in charge in training the players while Roka Nakazawa is the assistant coach who is in charge in physical labor and handling meals.
Tournament Results
Edit
Saitama Summer Tournament
Round
Opponent
Outcome
Results
Nishiura High School
Win
11-6
[[]]
[[]]
[[]]
[[]]
[[]]
[[]]
[[]]
[[]]
[[]]
[[]]
[[]]
[[]]
[[]]
[[]]
[[]]
[[]]
[[]]
[[]]
[[]]
[[]]
[[]]
[[]]
[[]]
[[]]