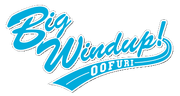 Big Windup! (おおきく振りかぶって, Ōkiku Furikabutte?), often shortened to just Ōfuri (おお振り?), is a baseball manga series by Asa Higuchi, serialized in the monthly seinen Afternoon magazine since 2003. It has been adapted into a TV anime series, animated by A-1 Pictures, which premiered in Japan on TBS. It received its international television premiere on Animax's English language networks in Asia, Animax Asia.
The manga series won the prestigious Tezuka Osamu Cultural Prize for best creative work in 2006. In 2007, it won the Kodansha Manga Award for general manga.
The series, set in Saitama, follows the story of Ren Mihashi. Mihashi was the previous ace pitcher in his middle school's baseball team, but it seems that he only got the position because his grandfather was the owner of the school. His teammates (especially the team's catcher) hated him, and they always lost their games. Mihashi is thoroughly convinced that he is a lousy baseball pitcher and he graduates through middle school with extremely low self-esteem. He then transfers to Nishiura high school with plans of quitting baseball, because he does not believe he is good enough to succeed at baseball. However, he is dragged into Nishiura's baseball team by their coach. Assisted by his new teammates (and especially the catcher, Takaya Abe), he grows in stature, confidence and skill, helping his team excel with his own abilities.
While growing up in Saitama, Asa Higuchi became familiar with baseball by reading the manga Dokaben. When she was in high school, the story of a local baseball team wound up inspiring her to come up with the idea for her own baseball manga. In the original version, Mihashi never spoke and characters like Momoe, Kanou and Haruna didn't exist yet. Following that, she collected data on high school baseball for over 10 years in order to create the manga, and she worked with the school she had attended, Urawanishi High School, in the year prior to the serialization. In fact, Urawanishi seems to have been the design for the school that the Nishiura boys attend. The two names are similar as well.
Five months prior to the serialization of Ōkiku Furikabutte in Afternoon, Higuchi published a one shot in the magazine titled "The Basic of Basics". The story was centered around the characters of the Musashino Dai Ichi school, who would show up in the series itself.
Community content is available under
CC-BY-SA
unless otherwise noted.